Other Ranch Events & Activities
Ranch Tours
If you would like a tour of the ranch to learn more about our riding programs, how we run the ranch and volunteer opportunities, please call Ranch Manager Terry Campbell at (916) 434-0693.
The ranch is open to the public from dawn to dusk.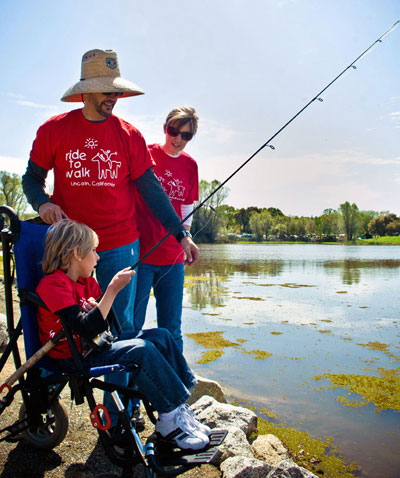 Fishing at The Ranch
Our 6-acre bass pond is open to the public from dawn to dusk for catch n release fishing. All donations support our therapeutic riding programs.
We ask each angler to contribute $5.00 per fishing pole to the honor box located near the pond. Please bring your own pole.
Life vests are also available for your boating safety.
Rent the Ranch for Your Own Event
Ride to Walk's 21-acre ranch style riding facility is the perfect place for weddings, reunions, birthdays and anniversaries as well as corporate events.
For rental information or to schedule a private tour, please contact us at (916) 791-2747 or ridetowalk@sbcglobal.net.


Tack Shack
Donate or Shop for Gently Used Tack
English & Western Saddles, Saddles Blankets, Riding Boots, Bridles, Leads, Bits and More!
Tack Shack Donations Dropoffs:
Ranch Office
1630 Highway 193, Lincoln, CA.
Monday – Saturday 8 a.m. – 2 p.m.
Your donations are tax deductible. We provide letters of acknowledgement for all donations.
If you have any questions, please contact the Ranch at (916) 434-0693.